---

New Customers - Welcome!

Existing Customers - Thanks For Your Support!
To all those who have supported us throughout the 2020-2022 pandemic, we deeply thank you.
Buy Tea Australia Online
Prefer to buy tea online? You can purchase your favourite tea or tea ware 24/7 right here on this site
Think of it as your very own all-hours tea market! Enjoy free delivery for all orders over $100.
Our Store
We are very fortunate that we were able to keep our store in Melbourne open throughout 2020 and 2021, and with things hopefully returning to normal for the rest of 2022, we trust that this will continue to be the case.
We deeply value the support of our community of local customers here in Melbourne, and equally our ever growing base of online tea customers.
Regarding the impact of the pandemic, whilst we have always had strict hygiene standards, as soon as we became aware of the virus here in Melbourne in February 2020, we quickly implemented a number of measures in direct response. Detailed information on each of these is available on our Melbourne store page here.
International Orders
Please note that due to the pandemic, international orders have been temporarily suspended.
We apologise for the long period of time this has been the case and sincerely hope to bring orders back to our international customers as soon as possible.
If you're not already a member, please join our mailing list here so we can update you when international orders resume.
---
Online Tea Australia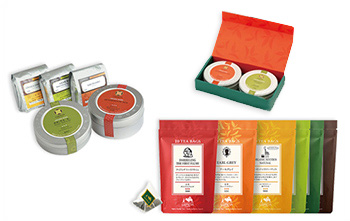 Founded in 1994 in Japan, and now with stores in Australia, Taiwan, USA and France, LUPICIA Fresh Tea brings you the highest quality teas and tea ware from all over the world. Being a Japanese founded, owned and operated business, you can rest assured of our utmost attention to quality, packaging, and overall customer service.
Black Tea, Green Tea, Oolong Tea, Herbal Teas, Teapots, Teaware
With over 400 different varieties of specialty teas, sourced from select plantations and tea growers all over the world, we are confident we have your favourite green tea, black tea or other type of tea, not to mention it's quite likely you'll discover your new favourite!
Our extensive range includes:
- Black Tea
- Green Tea (incl Japan Sencha Green Tea)
- Oolong Tea (Taiwan Oolong)
- Herbal Tea
- Our Famous Flavoured Teas
We also offer a special collection of Japanese Matcha and Matcha-related items, Chinese green tea, and from India/Sri Lanka: Assam, Darjeeling and Ceylon Tea & also our popular Chai tea bag selection
For traditional English tea lovers, consider our version of the classic English breakfast tea, and for later in the day, our Afternoon Tea!
At our headquarters in Japan, we craft many unique blended teas. A good starting point is perhaps our "LUPICIA original blend" range available in both green tea and black tea versions.
Perhaps you're after something more natural and free from caffeine (or low caffeine), with an emphasis on health and healing? If so, check out our range of herb teas
Super Premium Tea Bag Range
For those who prefer the convenience of tea bags, especially during a busy day at work, we've got you covered!
Our premium tea bags are identical in content to our world renowned loose leaf teas, the only difference is the handy tea bag form.>
Each pyramid-shaped quality silken bag is delicately filled with a generous serving of whole tea leaves, and its no surprise that these are very popular amongst our regular customers. Our tea bag range includes Japanese sencha green tea bags, classic black tea bags, Taiwan oolong as well as flavoured, herbal and chai tea bags.
Tea Ware - Tea Pot, Mug, Tea Cup & Accessory Range
We compliment our extensive range of specialty teas with an exceptional selection of teapots, tea maker hybrid cup and mugs, teacups and accessories.

Tea Gifts
Looking for that special something for that special someone?
Have a look at our range of tea gifts.
Loose Black Tea and Green Tea Leaf Teas
Our loose leaf tea range is extensive, guaranteed to satisfy the most enthusiastic tea lover! Whilst all tea may originate from the same camellia sinensis tea plant, there are so many different types of tea and corresponding tea leaf varieties.
Our green tea from Japan is second to none, and our black tea range is also extensive and very high quality. We also offer a selection of tea blends, especially our flavoured blend teas which are internationally famous and sure to please! Our master tea artisans in Japan take great pride in each and every blend we offer, whether it be black tea, green or oolong.
Planning an afternoon tea? Or a special high tea party?
Meeting friends for coffee gets boring sometimes. Why not order some of our premium highest quality leaf tea for the occasion. Perhaps a lovely flavour black tea such as English breakfast tea or another black tea, perhaps a
flavoured blend
, to match with your favourite taste sweet pastries, cakes or biscuits.
Interested in the health benefits of our whole leaf tea?
Advice regards tea consumption and its effects on your wellbeing? We've got you covered. The most healthy ingredient found especially in each leaf of our green tea is EGCG also known as catechins/polyphenols.
Read more health benefits of our Green leaf tea here
.
---