About Us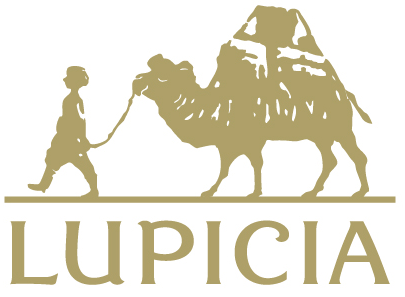 LUPICIA Australia is a Japanese/Australian company, based in Melbourne, Australia. Our parent company is one of the most famous and popular upmarket tea proprietors in Japan with over 140 stores nationwide and growing.
We offer a unique and extensive range of premium loose leaf teas, teabags and tea ware.
We place a very high value on production standards, overall quality and freshness of our finished product and are always working to bring you new varieties, blends and flavours from all over the world.
Extensive Range of Teas
Our extensive range of over 400 teas includes black, green, oolong, herbal & flavoured loose leaf teas to suit every taste.
We also offer a comprehensive range of premium tea bags.
For those looking for something especially unique, we have a range of limited edition teas packaged inside custom designed "special label" packaging. These are constantly being updated throughout the year.
Tea ware
We complement our wide selection of teas with a fabulous range of teapots, cups and accessories.
Gifts
We also have a large range of gift items and gift sets, and to be honest, all of our products make great gifts. Whether for your partner, friend, family member or work associate, we've got you covered. And don't forget, there's no harm in spoiling yourself every now and then!
Utmost Attention To Quality
Being a Japanese founded and owned company, you can rest assured of our utmost attention to overall quality, packaging, as well as our premium gift wrapping service.
Over 400 Varieties of Tea
Boasting over 400 varieties, LUPICIA is clearly a haven for those passionate about tea. Though extensive in selection, shopping online is easy as you can browse a wide range of categories including type of tea, region and flavour. Or you can simply search by keyword. In addition to all the classic teas and blends we are world renowned for, we also offer an eclectic range of unique and rare flavoured teas such as Grapefruit Green, Mango Oolong and Sakura Vert to name just a few.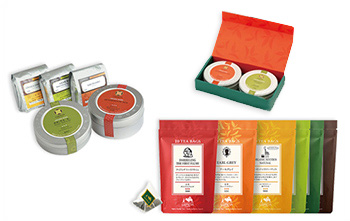 Packaging
All our loose-leaf teas are packaged in nitrogen-based vacuum-sealed bags to lock in their freshness and flavour.
Once opened, we recommend you store your tea in an air-tight container, such as one of our unique tea tins, available as an optional extra with all of our loose leaf teas.
What makes LUPICIA tea special?
There are a number of factors that contribute to the overall superior flavour, quality and freshness that makes our tea so special:

- The country and region the tea plant is grown in

- Species or varietal of the tea plant

- Condition and quality of the soil

- Climate & other environmental factors

- Safety standards

- Production methods

- Harvesting and packaging methods
At LUPICIA, not only do we pay utmost attention to each of these individually, we know that it is the optimum combination of all that enables us to deliver such a wide range of high quality teas, each with their own individual and distinctive flavour profiles.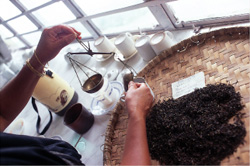 The premium quality of the teas we select is based on our strict commitment to delivering only the very best. We maintain this commitment by carefully controlling our production process, including using our own highly experienced buyers who check the quality of tea at the source before it is imported to our distribution centre in Japan. This includes carrying out strict safety inspections. Ultimately, tea leaves are only imported provided they meet all of our quality and safety standards.
After we receive the imported teas in Japan, they are processed accordingly and packaged on the same day of arrival.
Our Unique Special Blends
Our skillful and creative tea blenders work tirelessly and passionately at their craft. They are the reason behind our extensive range of original blend green and original blend black teas as well as our large selection of unique flavoured teas for you to savour and enjoy.
Our Shop in Melbourne
If you are in Melbourne, we warmly welcome you to visit our store in the city centre.
Otherwise, you can browse and shop our entire catalogue right here on this website and take advantage of free delivery Australia-wide for orders over $100.